Welcome! I currently represent District 39 in the Kansas House of Representatives. District 39 is located in Shawnee and Lake Quivira, Kansas.
The 2023 Kansas Legislative Session is completed
The voters of the 39th District in Shawnee and Lake Quivira, Kansas will have to wait another year for significant tax relief in Kansas. The governor vetoed our Republican proposal to return some of the $3 billion surplus to the taxpayers. Learn how Gov. "No Compromise" Kelly played petty games with legislators and refused to work with elected colleagues in my recent highlights of the 2023 session.
You can follow the legislature's progress in my Legislative Reports here, and sign up to receive them as they are published.

Taking Action to Help Kansans

In the 2021-22 Kansas legislative session, I've been working to help Kansas individuals, families and businesses emerge from the pandemic with strength and resolve. Here are some key accomplishments:
• I have led the effort to eliminate the waiting list for services for more than 5,000 Kansans with intellectual, physical and developmental disabilities.
• Fully funding education and working to restore educational progress among students affected by pandemic shutdowns.
• Supporting programs that help the economic development and future growth of our state.
• Fighting for more tax relief - so you'll have more money in your paycheck and to help people retire tax free.
• We have addressed laws that help prevent convicted criminals get away with crime or be released too soon.
I did

exactly what I promised to do

as a legislator. You can continue to count on me by re-electing me.

Legislative Priorities - From Owen's Desk
As many of you know, the Kansas legislative session addressed a number of important issues for families and individuals in the Shawnee & Lake Quivira areas. Since then, I have been highlighting the most pressing needs that need priority attention in the next legislative session. As your representative in western Shawnee/Lake Quivira, I'm prepared to lead the effort to address these unmet needs and remain a good steward of taxpayers' money.

Specifically, I will continue to work to address these key priorities:
• Avoid tax increases - I have always been a Champion of the Taxpayer and have demanded accountability
• Eliminate waiting lists for social services - services for persons with disabilities and mental health issues should be the first services funded by the legislature
• Protecting the sanctity of life to the extent possible under law
• Eliminate pensions for legislators - KPERS pensions should not be given to part-time legislators. I have refused it.
• Improve the operation of the KS Unemployment office - too many Kansans did not receive their benefits during and after the pandemic.
• Utilize a portion of school districts' reserve funds ($4+ billion) to stabilize K-12 education funding and encourage more focus on student outcomes and school accountability. See my plan to fully fund education without raising taxes.
• Create job growth in Kansas through industries such as manufacturing, agriculture, defense and medicine.
See my plan to grow the economy without raising taxes.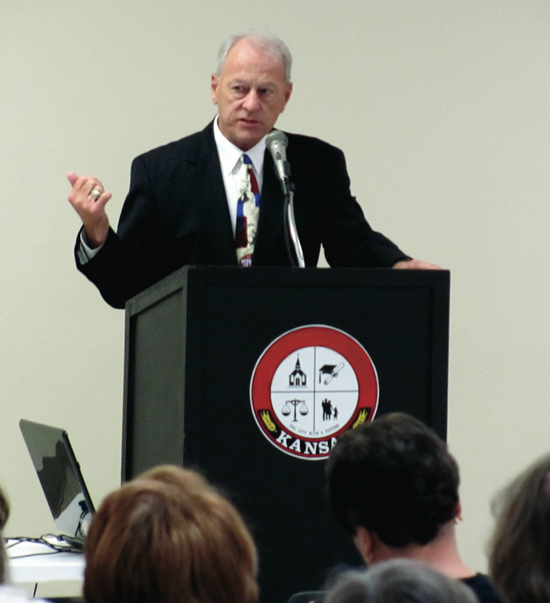 Owen Donohoe brings values and financial integrity to the Kansas Capitol.
Kansas has been through a lot in the last decade -- financial tumult, legislative division and threats to our values. Now we face growing inflation and taxes. Rep. Owen Donohoe is a leader who can set a better course for the future of our taxpayers, families, small businesses and most vulnerable citizens. A leader like Owen Donohoe in the Kansas House of Representatives is getting things done.
"The legislature has lost its focus on representing the taxpayers," says Rep. Donohoe, explaining why he is seeking re-election.
"I want to bring the focus of the legislature back to supporting strong values and fiscal accountability," Rep. Donohoe explains. "My experience in the legislature can help accomplish this. This is what the citizens want – accountability, transparency and a strong foundation of values in our policies."
Ongoing Legislative Updates:
I inform constituents regularly of developments in the legislature through my newsletter and email updates. I encourage you to sign up to receive news updates here.
A message from Rep. Donohoe:
I appreciate your support of District 39 citizens and I am upholding the conservative values you elected me to represent in Topeka, as your 39th District Representative in the Kansas House. Let's keep the lines of communication open -- email me with your thoughts at owen.donohoe@house.ks.gov anytime.

I HAVE EARNED ALL THE MAJOR STATEWIDE ENDORSEMENTS: