Voters want courts to stop dictating spending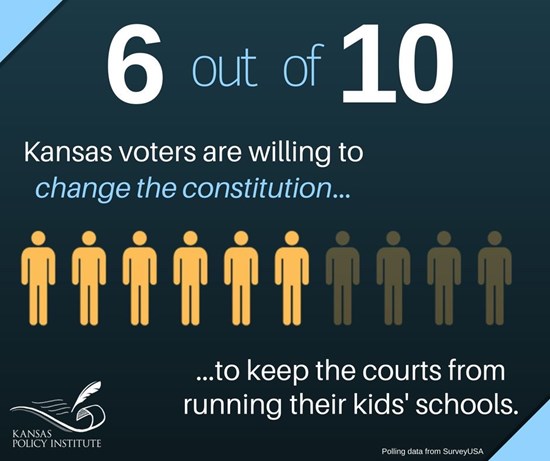 A newly released poll found that 6 out of 10 voters -- the majority of voters -- in all five Kansas Senate districts do not want appointed judges dictating spending amounts for Kansas public schools.

Voters want elected legislators to determine spending levels within the state budget, not the courts. (Details of the poll, published by the Kansas Policy Institute, are available here.) This is what elected representatives should do, but can't, because the Kansas Supreme Court has mandated spending levels since 2010.

Just weeks ago, the court said a $548 million spending increase wasn't enough.
The plaintiff school districts want another $1.5 billion per year spent on education, despite the fact that current education spending takes 65% of the entire state budget, leaving little for other key services.

This new poll gives further credit to a previous survey done by SurveyUSA in November revealing 60% of Kansans are willing to amend the constitution to take back control of education funding from the courts.

I want to hear from you about this. The voters I'm meeting around the 39th District are fed up with the courts mandating spending.

My opponent won't work to stop this, but I will work tirelessly to eliminate the Kansas Supreme Court's mandates on education spending, and put the citizens back in control of how their hard-earned tax dollars are spent by electing me as your State Representative.
Send me your thoughts on the courts mandating education spending levels >
RELATED:
School spending hasn't been reduced -- in fact, it has increased dramatically
The liberals and 'moderates' in the Kansas legislature erroneously claim there are school funding reductions...but there simply aren't any.

K-12 school funding has increased 88% in the last 20 years, and now takes 65% of the entire state budget. See the proof here and see how Kansas stacks up to other states.
RELATED:
State education spending is going up -- and why the media is getting it wrong

Total spending per-pupil in K-12 education continues to set records and run well ahead of long term inflation. The mainstream doesn't want you to know this. See the actual data.