A lesson about state education spending
The media, Democrats and moderate Republicans can't get their facts straight about Kansas education spending. As a taxpayer funding the largest category of state spending, you deserve to know the facts. Here's an article that corrects erroneous statements made in the Kansas City Star -- I'm sharing this so you'll know the actual spending figures:

From The Sentinel, 6-14-18, by Jack Cashill:
"State spending for schools, on a per-pupil basis, cratered under former Gov. Sam Brownback and has yet to fully recover," insists the Kansas City Star editorial board in a June 13 op-ed.

By definition, when used figuratively as a verb, "cratered" means "a severe downturn in popularity, reputation, value, etc." In this case, the Star editors would lead their readers to believe that state spending per pupil in Kansas suffered a "severe downturn."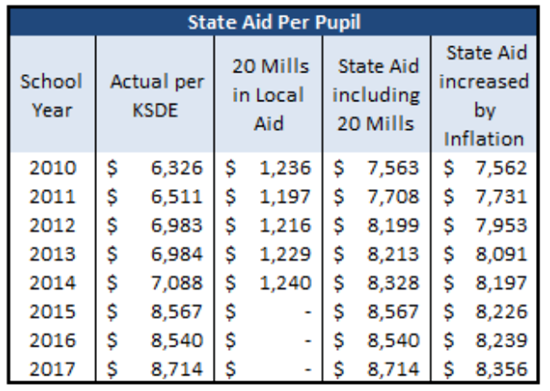 But data from the Department of Education shows the Star is wrong. In 2010, the year before Brownback took office, State Aid as reported by the Department of Education was $6,326 per pupil. Back then, state aid from the mandatory 20 mills of property tax was recorded as Local Aid (the Legislature and KSDE began properly reporting the numbers in 2015).

Adding in $1,236 per-pupil from the 20 mills of property tax puts Adjusted State Aid at $7,562. Had that amount been increased for inflation (Consumer Price Index for Midwest Urban Cities on a fiscal basis), State Aid would have been $8,356 last year. Actual State Aid, however, was $8,714.

The only question is whether the Star even looked at the numbers or if they just accept the school lobbyists' press releases as gospel.

Total spending per-pupil also continues to set records and run well ahead of long term inflation.
Per-pupil spending would have been just $9,210 last year if increased for inflation over the life span of the school funding formula but actual spending hit another new record last year at $13,236.