Legislative Newsletter Feb. 9, 2019
My legislative newsletter for the 2019-2020 session launched with a roundup of issues and committee news.
Please sign up to receive these updates directly here.
Read this issue here:
https://t.e2ma.net/message/90pfz/dcdg9w

Legislative Work Ahead


The 2019-20 Kansas legislative session is well underway and we have big challenges and opportunities ahead. I look forward to accomplishing the work of the People's House.
I serve on the new Rural Revitalization committee and the Social Services Budget committee, both of which involve priority initiatives of House leadership.
This session, I am delighted to have the assistance of a Legislative Intern, Alex Brown. Alex is a student at Kansas State and had some early indoctrination to the Kansas House of Representatives as the son of former Rep. Anthony Brown of Eudora. Alex will be helping me maintain ongoing communication with constituents and colleagues in the Legislature.
Please feel free to forward this newsletter to your friends, family and colleagues to stay in touch with issues that affect all Kansans.
You can also track my legislative activity here to see the progress of bills I am sponsoring and supporting.
Committee Highlights
Here's an introduction to the committees on which I'm serving:


Rural Revitalization Committee:

This new committee is examining ways to spur economic and population growth in rural Kansas communities. Economies in rural counties are suffering, growth is stagnant and basic services are not on par with the rest of the state. These issues impact all Kansans -- including those in the 39th District. As a Johnson County legislator who grew up in a rural community, I bring a unique perspective to the committee.
The committee is addressing issues tied to depopulation of rural Kansas communities such as health care, broadband availability, sustainability of water resources, transportation networks and access to agricultural markets. The committee will also evaluate economic incentives such as the Rural Opportunity Zones to determine effectiveness and gaps in tax programs that attract business growth. You can follow committee developments here.
To understand the population decline in Kansas and its related challenges, we heard testimony in the committee provided by Wichita State sociologists and faculty members about population decline in rural Kansas. The map illustration below shows projections by county.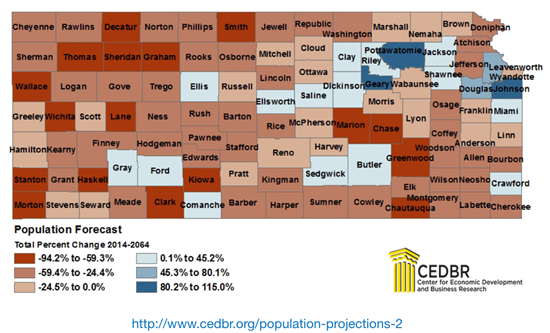 Social Services Budget Committee:


This important committee is tackling some of the biggest issues in Kansas -- healthcare/Medicare and human services. We have heard testimony regarding the state of adoption/foster care, Medicaid eligibility, mental and behavioral health and hospital funding issues.
We are also considering testimony about the Alvarez & Marsal Efficiency Review, which contains billions of dollars of savings recommendations that have not yet been acted upon. Considerable savings may come from this extensive study, and we will continue looking for prudent ways to effect reforms needed in social services spending.


KPERS Reforms

As most of you know, I have long been a champion of reforms for our state-funded pension program for public employees. Kansas has a huge, $10.253 billion unfunded liability with KPERS, and we must address improvements to the KPERS fiscal situation.
Gov. Kelly's budget proposal this year did not include the scheduled KPERS payment. Instead, her proposal would reamortize payments out several years, netting the state $145 million in the short term, but costing an additional $7.4 billion long term. That's $7.4 billion we simply cannot afford. Gov. Kelly says she can fund expensive new programs without raising taxes, but that's not possible. Saddling billions of dollars of debt on our children nearly guarantees tax increases down the road. I will report additional developments on KPERS reforms soon.


Kudos to Teacher of the Year Finalist Megan Clark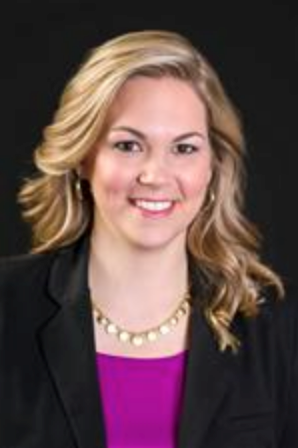 Special congratulations to
Megan Clark
(left), an art teacher at Shawnee's Clear Creek Elementary in DeSoto USD 232. Ms. Clark was recognized as a finalist for Kansas Teacher of the Year in a ceremony in front of the entire Kansas House of Representatives.
We're grateful for her dedication to our students, and we're proud to have her working with students in KS House District 39. Thank you, Ms. Clark!
Whitney Morgan, an English and ESOL teacher at Wyandotte High School in Kansas City, Kansas, was named 2019 Kansas Teacher of the Year.


How to Track Kansas Legislation

I have always been transparent about and willing to report information about legislation to you and our fellow constituents in the 39th District. The Republican Caucus is committed to doing the same – we recently passed new House Rules that provide the greatest levels of transparency in the history of the legislature. You can follow the latest legislative developments in the House here, and contact me at Owen.Donohoe@house.ks.gov to discuss issues or let me know your thoughts. Or, you can always share your thoughts here and be sure to receive our latest updates.


Rep. Owen Donohoe, KS State Rep District 39
Owen.Donohoe@house.ks.gov