Tax expertise is needed to fix Kansas' budget mess
There's a clear difference in the capabilities and expertise of my opponent and me. My Democrat opponent hasn't been very transparent about his positions on key issues like taxes and spending discipline. Voters should know he supports even more tax increases than Kansans are already burdened with.

I have the tax expertise Kansas needs. My opponent doesn't.

Our state budget and tax troubles are the biggest obligation our legislature needs to address. With my experience in the legislature, and my proposed solutions for balancing the budget without raising taxes, I'll provide effective leadership in the House.
Kansas is facing billions in continued revenue shortfalls if the legislature continues its tax-and-spend mentality. And the only solution the liberals (who controlled the Kansas House last term) have is to raise taxes – again. Enough is enough. That's why I'm running.
The high tax rates in Kansas are holding back economic growth. Kansas ranks #47 in economic growth* and #46 in net migration (more people are moving out of Kansas than almost any other state). Businesses and families will not move to Kansas unless we lower the tax burden and spur economic growth.
The problems Kansas faces require plenty of expertise, not just lip service. Citizens and taxpayers deserve the most qualified Representative to make billion-dollar decisions about our state budget. My opponent lacks experience, which is needed to make Kansas government accountable again.

How we can balance the budget without raising taxes.
We can balance the budget without raising taxes by exercising prudent fiscal discipline. By controlling spending and stimulating the economy, we can turn the tide in Kansas. Here's how we can do it:
• Require school districts and universities to use some of their $1 billion-plus excess cash reserves.
• Roll back school funding increases, including the court's recent mandates.
• Reduce costs through performance-based budgeting system
• Selling the right to collect future tobacco settlement funds

All of this can be done without raising taxes, without swiping funds from the highway fund, and without missing scheduled pension payments. In the process, we'll direct more school funds to the classroom for teachers and instruction. Learn more >
My extensive tax and budget experience benefits Kansans.

As a three-time state representative, I provided sensible and effective leadership to education, healthcare, tax and budget committees.

My experience in the Kansas Legislature shows proven leadership and grasp of complex issues. I served on the following House of Representatives committees:
• Appropriations Committee
• Health and Human Services Committee, Vice Chair
• Taxation Committee
• Education Committee
• Economic Development and Tourism Committee, Vice Chair
• General Government Budget Committee
• Aging and Long Term Care Committee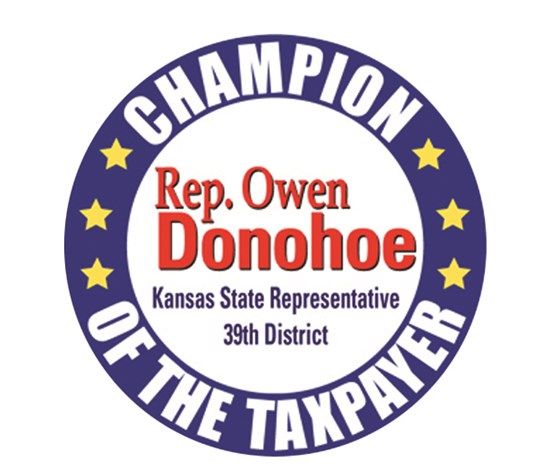 I have also led the movement for accountability in Kansas government. As an expert in education policy and taxation, I support effective and efficient performance in government. Learn more.